Yes, there are girls on the internet and girls who are gamers. Shocking I know, but I can name about ten girls off the top of my head that game as much as I do. I can also name about three times as many guys but that's just because I tend to befriend male gamers more often.
While this is a topic of non-importance no matter how you look at it, I still find it interesting and wonder what has changed over the years. One thing I've noticed is that hardcore gaming has become less violent. Today mainstream gaming consists of games like Halo and Call of Duty which, in comparison to older games like Quake 3 Arena or Unreal Tournament, are actually very tame when it comes to violence. The majority of girls I know prefer to not stomach that kind of violence but newer titles like Halo suit them perfectly. I tend to think that most girls simply haven't developed the de-sensitivity to it that most guys have and many girls in younger generations are growing up with this more. There's also more non-violent video games in general. I know a few girls who are just as vicious and bloodthirsty as any guy gamer but they certainly aren't a common breed by any means.
I have always had just as many female friends as I have male, but back in the day the one thing I couldn't bring up around my female friends was anything game related as they didn't take part in those kinds of things. I always wanted girls to get into gaming more since the gaming community for a long time has always been heavily unbalanced in gender. I like having diversity in the people I play with and frankly guys are also more fun to game with when there are girls present just as they are more enthusiastic about pretty much anything with girls present. That's how human genetics work. I am a gamer and I like to game with my friends. It's only natural I would want to do so with all of my friends, not just my male ones.
I also attribute the changes to my generation of gamers having grown up. Gaming is still a new medium of entertainment and while men have certainly pioneered it since the days of Doom, girls are finally starting to take interest on a much broader scale than before. I used to witness a lot of blatant sexism or misogyny in games when a girl would come on the server, but I see more equality today and I like that.
On a related note, I am a big fan of female Commander Shepard. EA recently held a Facebook contest for people to vote on the female Shepard they liked the most and wanted to see in Mass Effect 3. This is the one that is currently winning.
While I would have opted more for this one.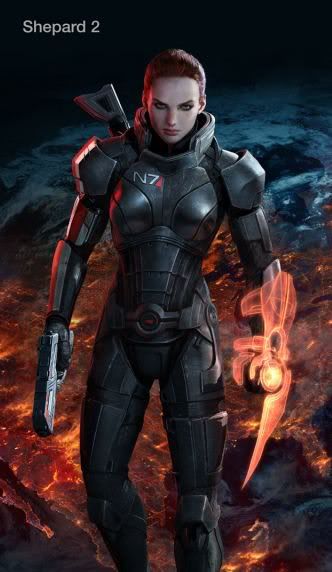 Either way, I prefer her over the male Shepard because she fits the storyline and canon of Mass Effect better. She isn't some overly sexualized damsel, she's just a badass protagonist indifferent to any other one regardless of gender. That's how female action heroes should be. Male Shepard serves the role well also but the industry and is loaded with male protagonists and male Shepard is no Master Chief. I for one am tired of Lara Croft's double d's, mythical females adorning next to nothing armor and Dead or Alive characters playing volleyball. They even ruined Samus by putting her in the Zero Suit and making her character into a pussy. This is why I appreciate Commander Shepard. She reminds me a bit of Capt. Kathryn Janeway from Star Trek Voyager. While it's certainly possible for any character to be sexual while remaining truly badass, the two seem to not be mixed as often anymore as most female heroes up until now are created for fan service and not much else.
And I must also mention one of my favorite Youtube gamers, Pani of superpaniland. Besides the fact that I enjoy getting my gaming news updates from a cute Australian girl, she's also the kind of female gamer I would like to see more of out there. More importantly she isn't iJustine or any of those girl "gamers" out there who only do Let's Plays to cash in on a popular Youtube trend but fail miserably at playing the games themselves.
Perhaps one day we'll even see a majority  of women at E3 filling roles other than booth babes and cute spokespersons.