There was a time when pre-ordering a game simply meant 'I want my copy before anyone else'. You would pre-order and be able to pick up your game usually ahead of everyone waiting in line. It meant having a golden cartridge instead of a normal one. It was mostly just a bragging tool.
The first real pre-order incentives ever included with a game were actually noteworthy. Merchandise was often included that you would only see today in the most expensive exclusive editions of a game.  These were the days when publishers actually rewarded their most dedicated consumers. Pre-ordering before a certain date often came with a discount as well to reward you for being one of the dedicated few. These were days when pre-ordering was actually a smart thing to do; like buying movie tickets ahead of time.
Today things are different. Pre-ordering a AAA title gets you nothing; sometimes even less. Modern Warfare 3 lacks even a slight discount for pre-orders on Steam. More games are released with exclusive pre-order content that was originally included in the game by default. Battlefield 3 was one of those games until a recent boycott on /r/gaming persuaded EA to not do so by showing that doing so would result in a reasonable loss of sales. Not to mention, exclusive content is worthless if the game itself is worthless so saying that exclusive DLC justifies pre-ordering a game is a load of crap.
These are not the biggest crimes committed in the past few years though. If a game is stripped of content to have it thrown into pre-order DLC I simply don't buy the game. What I hate about pre-ordering today is that it has become a marketing tool to convince gamers into buying a game before they even know if it's good.
Publishers like EA and Activision have managed to turn their audience into a bunch of Justin Bieber fans. No matter what they throw out to the masses they can count on people throwing their money away to get it. Smart people obviously still pay attention to reviews and feedback to see if they should buy a game since buying a bad game is dumb. People who pre-order are paying money for words. The publisher has told them that the game will be good and they are willing to take their word for it.
Would a publisher ever market a game as a bad one? Don't you think advertisements make games look awesome for a reason? It's not rocket science. Since marketing will only ever give you one kind of portrayal of a game what makes you think you can trust it as a reliable source to evaluate the quality of it? If you simply aren't evaluating a game at all before purchasing it then you have no right to complain about it being bad; except that is exactly what you do when you pre-order since you cannot evaluate a game that has not been released yet.
When you pre-order a game you are paying for what might be faulty product without any speculation on your part on whether or not it is actually a good game. You are gambling. You are no better than someone sitting at a slot machine slowly throwing their money away.
I hate to break it to you but even a game as impressive looking as Battlefield 3 can end up a pile of garbage. Clearly the graphics are impressive, but do you play Battlefield because it looks good? Of course not. You play it because generally the Battlefield series provides great gameplay. Battlefield has a history of great games behind it, but does that mean that Battlefield 3 is guaranteed 100% to be good? No! Any game series can be ruined with the next release. Any aspect of the gameplay gone wrong can ruin a game despite all the other aspects being solid. All the pieces of the puzzle have to fit. Any game breaking exclusive DLC content can ruin a gameplay experience no matter how prestigious. Why would you pay 60 dollars for a game that might be good? That is lunacy. As far as I'm concerned if you pay 60 dollars for a game you are paying for a guaranteed quality title and anything less is not worth the money.
Just look at the giant catalog of crappy or underwhelming games being released today and try to tell me that the chances of a game ending up bad are low. There are no franchises that are immune to this. Only you can be responsible for making sure your gaming experience is a good one; the publishers certainly aren't going to do it for you.
If a game ends up bad and you pre-ordered it, you have wasted 60 bucks. You could have waited until you heard from reviews or peers to see if you should shell out the dough but instead you took a gamble and ended up with nothing.
If a game ends up bad and you didn't pre-order, you simply don't buy it. You can then use that 60 bucks for something more worthwhile.
Take Black Ops for example. Many people pre-ordered that for 60 bucks before release. Was it really worth it though? Did it live up to your expectations and provide the same amount of entertainment that the previous Call of Duty's did? Many fans have said no. That 60 bucks could have been spent on a better game (or two) but instead it went towards funding Activisions next big project to shake you down for even more money. It wasn't a flop game by any means but it certainly doesn't have that action packed feel to it that previous CoDs had and it certainly wasn't worth throwing down 60 bucks for.
Stop gambling and praying to the game gods for a quality title. Your money is not some sort of sacrificial offering that will improve the quality of the title you have been promised. The best stuff out there does not come with stripped out content being sold as exclusive DLC. You wouldn't buy a car you haven't seen yet from a salesman who claims that it's awesome.
Anywhere there is a game being milked for money, there will be a lack of quality.
Take a tip from Tripwire Interactive. Not only is the upcoming Red Orchestra 2 only selling for only 40 bucks but here is what you get for pre-ordering.
An extra 10% discount during pre-purchase for a total of 20% off
Unlock the Kar98 and Mosin rifle bayonets on day 1
Special in-game item – show everyone your loyalty to Red Orchestra with the exclusive Russian Guards Badge/German Close Combat Badge
There is more included in the deluxe edition obviously but that is much more for simple pre-order incentive than anything Activision would ever consider. That is called rewarding your fans and thanking them for their support. I know many people who would still go out and buy this game even if it cost 60 bucks like every other title. Tripwire is only losing money by providing these discounts and only selling for 40 dollars but unlike Activision, Tripwire actually cares about things like making sure their fans are satisfied with what they get for the amount they pay.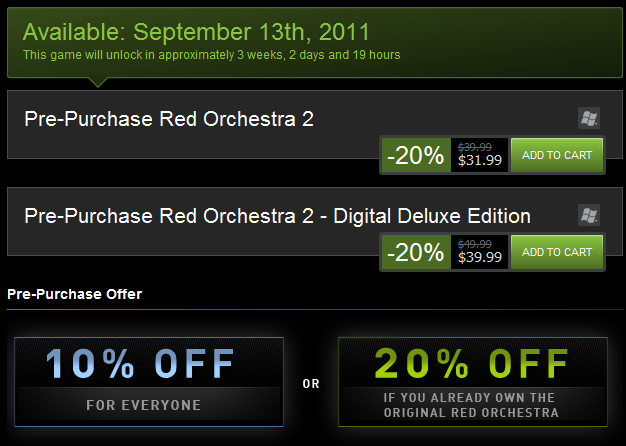 That is pre-order incentive done right. They are rewarding you for taking a gamble, as they should. Accepting anything less is the action of a hoodwinked idiot.