There's a little well known war shooter out there called Call of Duty. You may have heard of it. I was an avid CoD player myself back in the day. Those were some fun times in FPS gaming. The CoD formula brought with it something that fit in between the realm of strategic shooters like Battlefield and run & gun mayhem fests like Unreal Tournament. Throw in standard modding support and a great community? What wasn't to like about CoD 2?
These are the top five reasons many gamers should grow up and move on to greener pastures for their own sake.
1. Spawning changes since MW2

In CoD 2 there was a real sense of territory control because of how the spawning worked in TDM. You would spawn on or nearby your teammates even if that was deep within the enemy territory. Symmetrical two-sided custom trench warfare maps were possible because of this and if you really pushed hard enough you could even take over the enemies trench, though they would simply start spawning in your old one and the sides would become reversed eventually. This push against push gameplay really felt like a team effort despite not inherently involving much team communication or tactic. This was a working formula for casual FPS gameplay.
CoD 4 managed to keep a good balance with spawning between random and team based spawns but MW2 essentially dumped any effort to try and spawn you anywhere that was safe. This trend continued in Black Ops and it will undoubtedly continue in MW3. The spawning system has effectively been dumbed down to where you can spawn directly where the bulk of enemies are resulting in your immediate death. There is no sense of teams, just people running around you can't shoot and people running around that you can. There is almost no reason to play TDM at this point. CoD 4 was the last CoD title slow-paced enough to allow for pseudo-strategic communication and teamwork but fast paced enough to feel like a run & gun shooter. This balance was thrown away with MW2 in exchange for an all run & gun focused game where you cannot predict where the enemy is going to come from at all and you must simply run the treadmill of running around until you find something to shoot and then shoot it before it shoots you. Rinse and repeat. That may be the core of FPS gameplay but MW2 stripped away anything that was layered on top of that core gameplay from the CoD franchise turning it into a grindfest of boredom.
2. No more tactics

There used to be micro tactics involved with CoD that complimented the trigger finger gameplay. For example, if everyone was distracted enough it was possible to prone your way through some inconspicuous pathway into the enemy territory where you could either choose to snipe or lay low and let your teammates spawn in on you so you could temporarily flank the enemy and get the upper hand while the spawning zones shifted. Now there are no enemy territories much less friendly ones so sneaking is pointless, camping is pointless and shifting spawns is impossible. Now you can easily be heavily spawn camped. The only element of gameplay is run around and shoot while the only tactic is 'where should I check for enemies on this map?'. That's it.
CoD may have never been that tactical of a game to begin with but there were still options you had to help you achieve victory besides shooting the enemy. Hell, nowadays most CoD players don't even care about which team wins because they're too focused on simply upping their own KDR anyway. The game doesn't even have the aspect of a one death limit like Counter Strike to encourage players to at least try and master their ability to stay alive and make their one spawn count as much as possible.
Not to mention there used to be different ways to approach the game even with the kind of weapon you selected. You had different advantages and disadvantages from picking a bolt rifle over a submachine gun etc. Now there are almost no differences between each gun unless it's a sniper and the only differences players can come up with are based on their subjective experiences with using a certain weapon and that it is better than others simply because they "own more with it."
3. CoD has become a capitalistic sports franchise
CoD is no different than Madden or any other sports game that is regurgitated every year with a slight graphical upgrade and an updated player roster. The gameplay is no different between each modern Madden game because the sport itself never changes. There are certainly differences between Black Ops and MW2 in terms of how each studio built the game but when it comes down to it you still end up doing the same old quick scoping run & gun routine in the same size maps. There's nothing wrong with this if people enjoy the kind of gameplay MW2 and Black Ops present, but at that point you have to ask yourself, 'Is this worth paying for again and again every year?' If it's basically the same game, why can't you just play the same game for longer than a year without having to dole out extra cash for a slightly shinier version and even more for the DLC that comes with it? The folks playing Halo Reach sure don't seem to be bored with their game of choice yet and that game was out in 2010. Hell, there are still players for the even older Halo 3. There are still thousands of people playing the original Unreal Tournament that came out in 1999 despite how much time has passed and three sequels being released. You know why? Because they're all good games. So then, why on earth would any of those gamers pay money for every patch or pack of maps that came out for it? Somehow Call of Duty fans have got it in their heads that this is acceptable.
What's stopping Valve from taking the plethora of official campaigns they've released for Left 4 Dead 2 since its release and simply releasing them all together as L4D 3 and charging money for them? Absolutely nothing. Why don't they do this then? Because they're actually a decent company that doesn't try to profit off of gamers every chance they get. Activision on the other hand has been doing this with every new CoD since MW2.
When you buy a sequel to a game, you expect a new game that is better than the previous one. MW3 seems to likely be what people wanted MW2 to be. While that's good in some regard it's also unacceptable considering you are paying up to $100 for this game and a sequel should have significant upgrades to its gameplay rather than employing the same garbage over and over again and simply being what its predecessor should have been. A sequel is not a patch, an expansion or a content pack; it is an entirely new game. MW3 is not an entirely new game and neither is MW2.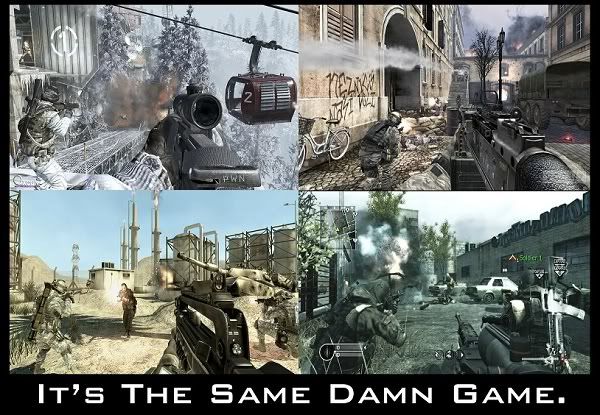 4. There are other games out there

Do they have the same kind of flashy marketing and sheer amount of players as CoD? Most likely not. Does that mean they aren't good? Hell no. Some of the best games you will play in your lifetime will likely be ones that aren't very well known at all. If you've ever been irked by how CoD is becoming progressively more expensive to play every year when it is changing less and less with each release then perhaps you should look around and realize something. You're playing mainstream games in the market that will be filled with the most money grab games. If you're fine with paying $60+ a year to play the same game then by all means go ahead, but there are plenty of shooters out there that are actually reasonable in how they generate their money.
We've all seen good franchises ruined by greed or bad decisions and Call of Duty has been destroyed by Activision trying to extract as much cash as they could out of it before people finally lose interest if ever. It has turned into their own personal cash farm that they can regularly use to make ludicrous amounts of money off of each year while putting minimal effort and money into each release. Unreal Tournament had UT3. Tribes had Tribes Vengeance. Crysis had Crysis 2. Medal of Honor had a catastrophe of a reboot. There are more games out there than ever before and Call of Duty is certainly not the only place you can get your action packed shoot-em-up fix; it's just the loudest. Many FPS gamers out there don't even realize how much they enjoy tactical and strategic elements in their gameplay until they try games that implement them like Battlefield and ArmA.
5. It's been invaded by kiddies
The squealers that used to inhabit games like Counter Strike have pretty much all migrated to CoD since the release of the 360 and MW2. When they aren't screaming into their mics or trying to scam you out of Microsoft points they're being generally annoying bigoted idiots who yell offensive words they just learned simply because they have mouths and the ability to use them. Such is the nature of 13 year old boys. I don't know about you but these are not exactly the kind of people I want to spend my time gaming with.
If you dislike playing with these kinds of gamers then you're gonna have to give up playing any modern release of CoD, especially on the console. There are some good servers in old PC versions of CoD 4 and CoD 2 with mature players and communities but you won't ever find that kind of thing in the most recent releases.
So do you really enjoy this franchise enough to justify the money you put into it? Do you really think having a high KDR actually matters and that this giant dick swinging fest is one you can win by shooting and running better than everyone else? Please. Ten years from now you'll regret all the time you wasted on this stupid game. Why not waste that time on something cheaper that is actually entertaining and not filled with screaming idiots?
If you're really a hardcore FPS gamer and your balls dropped years ago you don't have to sit in the ball pit with the 13-year-olds anymore. It's time to move on.