DLC such as Call of Duty map packs seem to thrive without being labeled as ripoffs because there are a lot of gamers out there who actually seem to think this is normal and therefore perfectly acceptable.
Back in the days of expansion packs, DLC did not exist since expansions usually came in their own separate boxes on their own discs and digital distribution was basically unheard of in its very archaic beginnings. Selling small add-ons for a game was not worth the effort and cost of publishing each hard copy since people didn't want to pay that kind of money for only a small amount of content. This meant that expansions had to really extend a game's content in significant ways.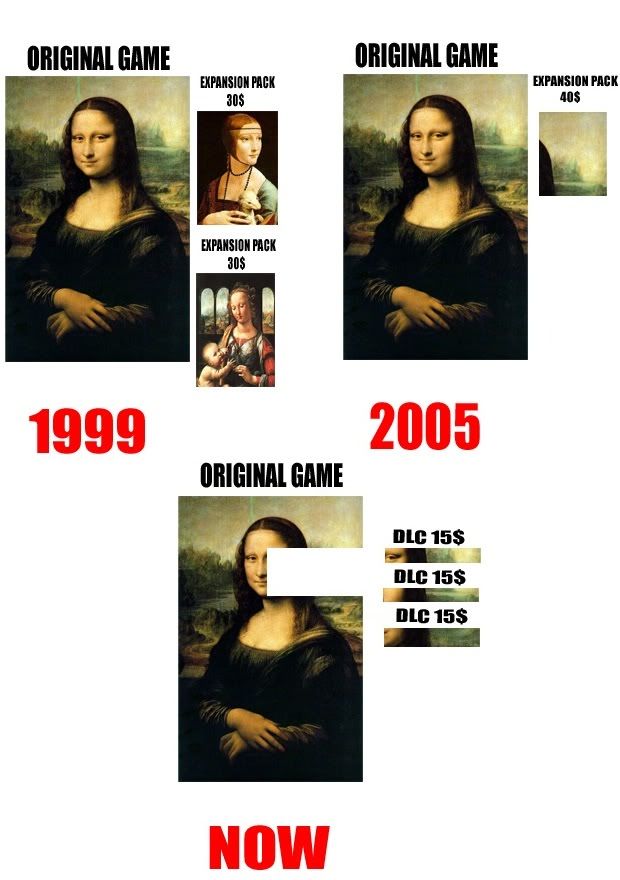 DLC is simply a modern version of the expansion pack. Back in the day, expansion packs were practically whole new games. Good examples would be Rollercoaster Tycoon and it's many expansion packs or the expansions to TES IV: Oblivion. Each one contained new and unique content that was easily set apart from the vanilla gameplay despite being the same game at it's core. This trend slowly evolved as online distribution began to become the more staple form of acquiring new content for games specifically after the release of the most recent generation of consoles with vastly improved online gaming capabilities.
Eventually you started to see smaller DLC packages that offered smaller improvements such as the Northern Strike expansion for Battlefield 2142. The pack offered new maps, vehicles and weapons but was available online just as easily as it was in a boxed copy. The amount of content it added was much less than a traditional expansion. The core gameplay was unchanged and the pack provided nothing more than some content which could have been put into the stock gameplay just as easily to avoid splitting the community into two groups. It was created after the original game itself had gone gold and been released however so it was perfectly within their right to release this additional content later on which effectively extended the replay value of the title. If they had released it with the stock game the release date would have been pushed back that much further.
However, that was just the start of the stream of trends that would begin to pop up after that propagated by digital distribution becoming standardized as an almost exclusive source for DLC.
It has gotten to the point where some games are released with the DLC content already in the stock game which can only be unlocked if you purchase what is basically just a code to unlock it. Publishers are removing content from the game, giving you 90% of what you paid for and making you pay an additional fee to get 100%. It's a way for them to raise the average price of games even higher without appearing directly to have done so. If they simply released a $70 game, many gamers would be angry at the price and would not buy it. If they make it appear as if the game is complete and the content they actually removed is providing a 110% experience, gamers are willing to pay the additional money.
It's hard to find worse value for $15 DLC than a Call of Duty map pack. Each pack contains about four to five maps; some occasionally being recycled ones. How only four maps can be valued at $15 nowadays is beyond me.
Here's a quick lesson in how much you should be paying for additional maps in games.
Killing Floor has had content added to it since it's release. On launch day the game had about fourteen weapons to choose from and five stock maps. Today the game has 24 weapons and 18 maps (not counting the hundreds of player created custom maps) and this extra content did not cost the fans a dime. They were added to the game in regular updates, not optional DLC. The only paid DLC Killing Floor does have are skin packs which cost $2 each and contain four skins per pack. So if you want to buy Killing Floor and all of the skin packs available for it you would pay a total of $30 not including tax.
Call of Duty: Black Ops on the other hand has had four paid DLC packs released so far; each containing four or five maps and nothing else. If you want to play Black Ops and have every bit of content available for it you have to pay a whopping $120 dollars total.
So you tell me which is a better deal.
Killing Floor – $30 total
All non-cosmetic content is free forever.
DLC is extremely cheap.
Friends don't have to purchase anything to play with you on any server.
Hundreds of free maps from both players and the developers.
Black Ops – $120 total
Friends have to also buy the DLC in order to play the extra content with you.
DLC contains only a few maps and nothing else.
No free maps and no custom ones either.
No additional weapons or cosmetic additions.
Killing Floor is open, much cheaper and a great example of how DLC should be implemented. It is a game with gamers in mind, not the shareholders. I'm not saying it is a better game than Black Ops since that is a matter of opinion, but from a business perspective Killing Floor takes the money generated from the game and uses it to give back to the gamers.
These are the two basic points I'm trying to make:
1. Maps should be free. This is how it has always been for many PC games in the past and that's how it should be done on consoles as well. Paying any amount of money for a DLC pack which only contains some maps is a complete and utter ripoff. I would accept maybe a few dollars, but nothing around the range of $15. It does not take much money at all for someone to put together a few maps for a game. It takes even less effort to recycle old maps from previous games. The only costs are the workers salaries. Many PC gamers make custom maps for games in their own time and it costs them nothing except their time. What is the difference between a pack of four maps made by a team of developers and a pack of maps made by gamers? Outside of polish and salaries, nothing. It certainly doesn't take $15 multiplied by 20 million to make up those kinds of production costs.
2. You would have to be an idiot to think large companies like Activision, Ubisoft, EA etc actually require the revenue generated by their DLC in order to break even. These are multi-billion dollar companies that generate far more revenue per every AAA release than it took to produce the game. They don't need to make extra money from some overpriced DLC packs in order to stay afloat. That's what the $60 you originally paid is for. They could release these for free and still make a boat load of profit. That's how it worked back before these map packs and other such DLC became standardized and you never saw Activision scraping for money then either. If you have fooled yourself into thinking your money is being put to good use to fund the developers then you should stop kidding yourself. This is just extra revenue that will only line the pockets of whoever is on top. This is not the kind of business that gives back to gamers or the industry; it only takes from gamers.
There quite a lot of apologist gamers who will go to any means necessary to justify their DLC purchased making the argument that 'these are businesses and this is just how the industry works' as if these prices are just necessary for them to survive in this struggling economy. While this might apply to some smaller publishers, it doesn't apply to corporations like EA and Activision. They do it because no-one can tell them not to, not because they need to. They do it because the opportunity to exploit consumerism is there and they're taking it.
The real problem with this isn't price but that it's making these publishers a ton of money and like any other new method of generating revenue, other companies are going to follow suit. This kind of thing can and will spread throughout the industry as long as it continues.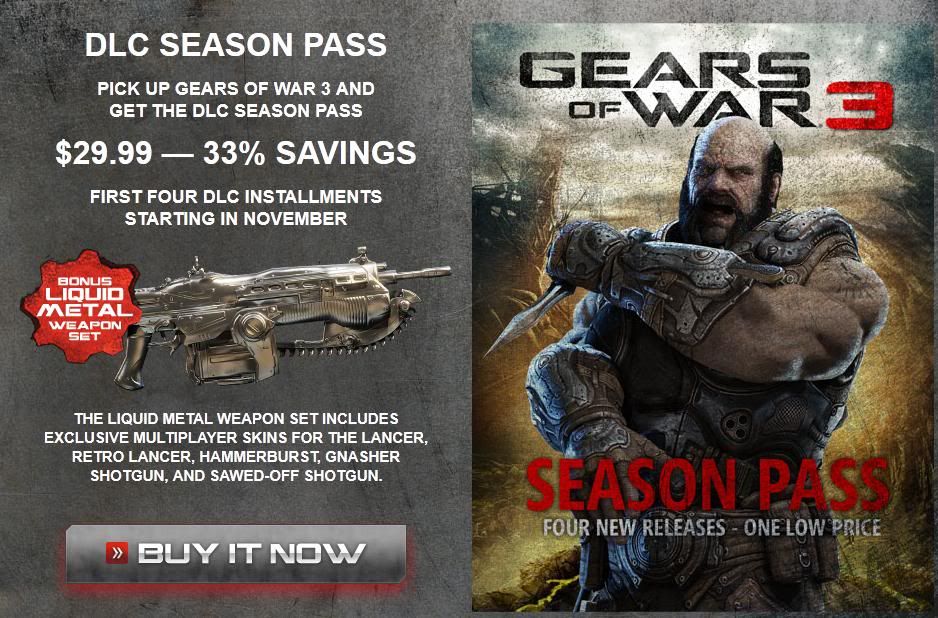 I came into gaming originally as a console gamer and I don't want to see it be ruined. If you think paying $70+ is bad, just wait and see where this will head next. Gamers have the right to prevent what used to be considered a cheap alternative form of quality gaming from being turned into the money sponge it has become. The only way to combat this is to vote with your wallet. If these packs don't sell then Activision and other publishers will stop employing them as methods for making money. They will not ever do something that doesn't make them money. Every dime you spend on things like this contributes more to the problem. Your $15 alone may not seem like much of a contribution, but alongside the millions of dollars from your fellow gamers it is. PC gaming will live on no matter what you do to it simply because it's an open platform, but console gaming is at risk of being ruined by the people in control of it because they can't take their hand out of the cookie jar. The more content is removed from games to be put into increasingly higher prices DLC packs the more this format of gaming will evaporate after becoming too expensive to prefer over a PC. At that point people who simply can't afford it anymore will either migrate to PC gaming where the industry isn't nearly as monetized or just stop gaming entirely.
That's the sad future console gaming faces if the industry doesn't get it's act together.