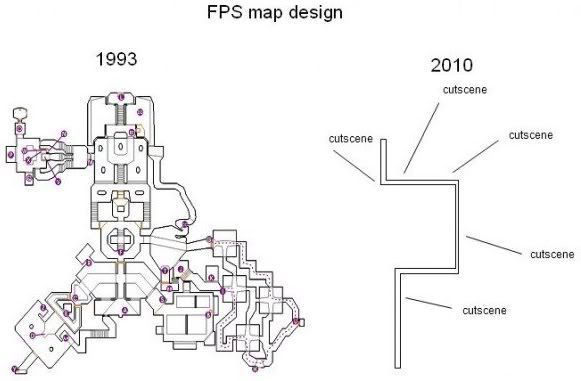 While there are still plenty of difficult games out there for consoles, there is a growing problem with their inability to provide a sense of accomplishment. When it comes to the average console shooter, free-roamer, beat-em-up or RPG, I just don't see any complexity or intellect required on the gamers part to accomplish something anymore.
Chances are you're going to see one or more of these common traits in the average console title these days:
NPC thugs that stand around waiting for you to fill them with holes

Linear maps that appear open and expansive while actually being nothing more than a narrow winding corridor

Quick-time events that involve a single button push to do something you could probably do by yourself if the game allowed it
Pop up hints and dialogue that tell you exactly what to do, where to do it and when to do it, taking away any guess work

Aim assist
Boss battles that involve nothing more than mindless button mashing and quick time events
Protagonists that take an entire armory of bullets before they go down even on higher difficulty levels
It's as if many developers and publishers don't even realize what their major consumer demographic is. It isn't senile 70-year-olds or five-year-olds with the intuition of toasters. We are intelligent gamers who don't need games to hold our hands and spoon feed us the experiences we want. I already know right trigger is most likely going to be the button to 'shoot' with. I don't need a prompt on the screen telling me how to do that. Next I'm going to see a message telling me I should shoot the bad guys! Who would have guessed?
Unless I'm playing Elmo in Alphabet Land, I would appreciate it if the game I'm playing didn't treat me like I just graduated from kindergarten.
So why am I picking only on console gaming? The same certainly applies to plenty of PC games, but the PC also has a much broader selection of genres to choose from including RTS, 4x, MMORPG and MOBA games; all of which usually require a hefty amount of critical thinking and skill. Eve Online has one of the highest learning curves and most complex meta-games ever conceived. Plenty of PC games cannot simply be picked up by anybody and mastered in just a few hours of practice. They require you to develop skills which takes dedication. Anyone seeking a more mentally engaging gaming experience can at least turn to the PC for one despite it having plenty of the same dumbed down titles as modern consoles. Console gaming used to be this way if not to an even greater degree. If anything has turned me off of console gaming over the years it was this gradual shift. Would giving consoles access to these genres help the issue? Sure, but it wouldn't solve the problem entirely. Shooters have never much of a rubik's cube, but they can certainly be more engaging and complex than they are today.
Somehow developers have gotten it in their heads that gamers don't like being pissed off because of a particularly hard level, boss or obstacle. If that were the case then just about every game made for the SNES would not be as popular as they were. For a more modern example, how does a game like Dark Souls have a strong fanbase when it is so difficult? How is it that eleven million people are willing to invest hours of their time in World of Warcraft despite its above average difficulty level?
It may have something to do with the fact that gamers enjoy being challenged.
This is about a very important part of what makes gaming fun being sucked out for the purpose of appealing to the lowest common denominator.
This isn't about elitism or grasping at intellectualism. This is about a very important part of what makes gaming fun being sucked out for the purpose of appealing to the lowest common denominator. People game for the very reason that it is more engaging and difficult than watching TV or movies. Whether that challenge is finishing a quest or obtaining a high leaderboard ranking or beating a difficult boss, these are all one and the same. An important part of gaming is the satisfaction of overcoming challenges. Take away the challenge and there is no satisfaction. Take away the satisfaction and nobody will enjoy the game.
It's no wonder games have become the 'most epic merry-go-round ever'. I don't want to play a game that simply tries to be epic. I want to play a game that makes me feel epic. If I wanted to simply watch something epic I would see a movie. I'm not about to throw down $60 for a game only to get a glorified movie that only progresses once I hit certain buttons.
Egoraptor made a great point in his most recent episode of sequelitis about Mega Man X and how it manages to teach you how to play the game without directly telling you anything.
kmoosmann also created a great demonstration of how badly the quality of shooters has fallen over the years by showing what Quake would be like if it had been created today.