The first time I played Mount & Blade: Warband my initial thoughts weren't exactly great. Then I discovered the Mount & Musket: Battalion mod created by Flying Squirrel Entertainment which introduced 19th century line battles. It was rough around the edges but still brilliant for a total conversion mod created by a team of only four guys. It soon became one of the most popular M&B:W mods out there with entire clans and regiments being centered around it.
After the success of their mod, Flying Squirrel was commissioned by Tale Worlds to take the core of their work and polish it up for an official retail release. The result of that is the new Napoleonic Wars DLC which embodies every bit of wasted potential I saw in Warband and offers up hours of entertainment. However, your enjoyment of this game will be determined mostly by how appealing you find 19th century warfare than by technical or gameplay standards. Technically it gets the job done with no real issues or room for improvement, unless you consider "improvement" to be adding M16s and Abrams tanks.
Here are some of the most important changes made to the game as it transitioned from Mount and Musket to the release of Napoleonic Wars. (source)
- Completely remade France, Britain and Prussia + added the new Austrian Empire.
The new character models in NW are more detailed than their blocky predecessors and far more appealing to the eyes in general. It may be a moot point if you require amazing visuals from a game because this engine certainly doesn't provide them, but within the games standards these look phenomenal.
- New units that you always wanted such as Voltigeurs and Cuirassiers for France, Light Dragoons for Britain, Death's Head Hussars for Prussia and much much more.

- A selection of over 220 unique units.
There are now even more front lines infantry options than ever before. Depending on your preferred combat methods, you can choose a more melee focused unit like a British foot guard or one that excels at accuracy and range like a Prussian jaeger.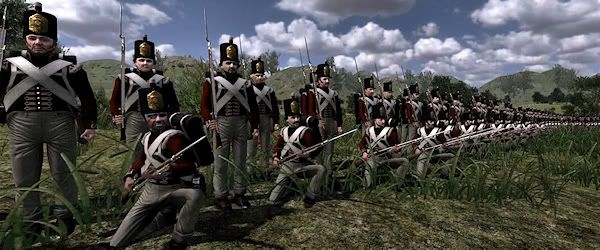 - Sapper/engineering units for all factions, capable of building fortifications and blowing them or other buildings up using their explosives.
This is one of the best additions so far. Sappers can build makeshift forts just about anywhere out of sandbags, anti-cavalry stakes, fences, earth mounds, etc. They can also build explosive crates to destroy enemy constructions and buildings (which are fully destructible now by the way.)
- Several new types of artillery and ammunition types, including shells, canister and even rockets.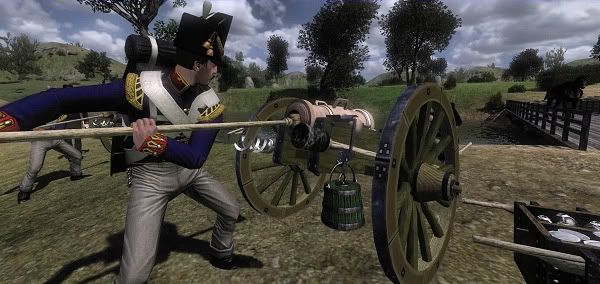 Artillery has received some major upgrades. The cannons and howitzers now have a choice between round shots (basic cannon balls) and canister shots (a shotgun blast of many smaller rounds.) You have to be careful though, since you can potentially wipe out many of your teammates as well. They take a semi-realistic amount of time to load and fire (for balance) but some well placed shots by a pro can potentially decimate entire lines. Playing as artillery in NW is satisfying, strategic and it caters to both new players and veterans.
- Musicians can now walk whilst playing, and even play the same tune together.

- Musicians, Ensigns and Officers give bonuses to nearby rankers.

- A large amount of new musician tunes, specific for each nation.
Musicians and officers can now give buffs for things such as running speed or reload speed, though some choose to play with those disabled. Musicians are mostly used for role playing in MM and NW, but if you believe in the offensive power of bad bagpipes music, anything is possible.
- New high-quality voice acting for all factions, both for male and female characters.
One of the biggest flaws of MM was the lackluster voices, but NW has fixed that entirely. The new war cries and death sounds are vastly superior to the old ones and make the conflict all the more satisfying.
- Introducing the Siege game mode + a new Commander Battle mode where the players lead bots in a line battle against each other.
Commander Battle is the same as battle but with lines of AI and each player as their commanders. The AI is fairly competent and you can command your AI the same way you would a line of actual players. This allows for about the same experience an organized regiment line battle without all the prep work. It's a bit like a first person RTS.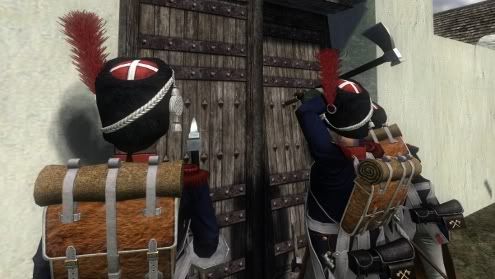 Siege is an especially fun addition where one team defends a fort or other type of stronghold and the other tries to capture it by taking down the enemy flag. This broadens the kind of tactics line infantry, sappers and artillery can employ. The forts are fully destructible via artillery or explosive crates so if you don't feel like trying to storm through the main gate of a stronghold, you can always just make your own doorway. Attacking a fort isn't as easy as it might seem though, since the enemy usually has both the high ground and just as many methods for defending themselves as you do for attacking. Some maps even have boats that you must use to ferry over to the enemy stronghold.
The default game modes such as duel, deathmatch, team deathmatch, battle and conquest are included as well.
Even if Mount & Blade: Warband wasn't your cup of tea, Napoleonic Wars still might be since it takes the gameplay in an entirely new direction. It's still a niche game but NW expands that range of appeal to a much broader spectrum of players. You, like many others, might just be surprised by how much you enjoy it. You'll get the most out of it by playing in a regiment that makes use of the ranks, musician signals and other features, but even if you don't you can still enjoy yourself in any public server. Yes, there is a bit of a learning curve, but not so vast you'll end up being frustrated with it.
Summary
Pros
Cons
Strategic and suspenseful combat

Great SFX and classical soundtrack

Potential for huge 250 player rank battles

No zoom

Simple UI

Dated graphics

Can be laggy with many bots

Bot 'traffic jams' and generally poor AI

No singleplayer

Niche appeal
Mount & Blade: Napoleonic Wars