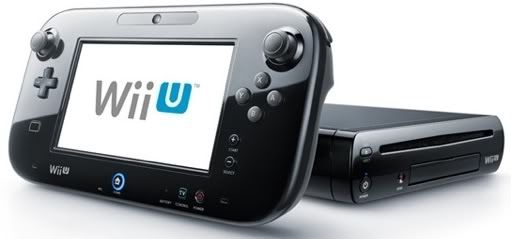 With the Wii U being the frontier console in the upcoming generation of new hardware just like the Wii was back in the day, it needs to deliver if Nintendo has any hopes of making it out of the starting gate. There's been plenty of rumors going around from journalists, Nintendo employees and developers concerning the kind of power it really has, but hopefully now that some actual specs have been revealed by Nintendo we can get a proper estimation of its capabilities.
Main Application Processor

PowerPC architecture.
Three cores (fully coherent).
3MB aggregate L2 Cache size.
core 0: 512 KB
core 1: 2048 KB
core 2: 512 KB
Write gatherer per core.
Locked (L1d) cache DMA per core.
This CPU architecture is similar to that of an Xbox 360 but it's difficult to see how it stacks up against the 360′s processor since no clock speed is listed. Though it's safe to say this will fare a bit better than a processor built on seven year old technology.
Main Memory

Up to 3GB of main memory (CAT-DEVs only). Note: retail machine will have half devkit memory
Please note that the quantity of memory available from the Cafe SDK and Operating System may vary.
1.5Gbs of memory isn't exactly a lot today when PCs can sport 4-8Gbs standard, but since consoles don't operate the same way PCs do this may not matter. The reason the devkit will have more memory is so developers can run unoptimized versions of their games that take far more memory to run than the finished product. They will still be designing their games to run on 1.5Gbs.
Graphics and Video

Modern unified shader architecture.
32MB high-bandwidth eDRAM, supports 720p 4x MSAA or 1080p rendering in a single pass.
HDMI and component video outputs.
Finally a Nintendo console with an HDMI output and HD resolutions. 720p is what most PS3 and 360 games run in (expanded to fit a 1080p screen) while the Wii U will actually be the first console to put out a true 1080p resolution. The "single pass" means there will be no anti-aliasing available in 1080p but unless you sit right next to your television you may not even be able to notice the jagged edges this produces. Allowing 4x anti-aliasing on the 720p resolutions however will ensure that games continue looking smooth even when they are being expanded to fit a 1080p set.
Features

Unified shader architecture executes vertex, geometry, and pixel shaders
Multi-sample anti-aliasing (2, 4, or 8 samples per pixel)
Read from multi-sample surfaces in the shader
128-bit floating point HDR texture filtering
High resolution texture support (up to 8192 x 8192)
Indexed cube map arrays

8 render targets
Independent blend modes per render target
Pixel coverage sample masking
Hierarchical Z/stencil buffer
Early Z test and Fast Z Clear
Lossless Z & stencil compression
2x/4x/8x/16x high quality adaptive anisotropic filtering modes
sRGB filtering (gamma/degamma)
Tessellation unit
Stream out support
Compute shader support
Most of this is fairly standard for a modern GPU but what stands out is the support for tessellation and anisotropic filtering. The AF is a welcome features since consoles have gone without it for too long now. Tessellation and compute shaders are not exactly essential for a game to look good, but what is more important is that these both require DirectX 11 which means the Wii U will support the latest in rendering technologies.
The texture resolution support seems almost too good to be true. Most game textures are around 512×512 to 1024×1024 in size and in order to get any higher you usually have to mod the game with texture packs (usually a PC exclusive option) that bump this up to 2k or 4k resolutions for more clarity and realism. Allowing 8k resolutions is unheard of for console gaming and chances are we won't actually be seeing them in many games because of what that would require from the system, but maybe Nintendo will surprise us and put an end to the era of muddy looking console games.
GX2 is a 3D graphics API for the Nintendo Wii U system (also known as Cafe). The API is designed to be as efficient as GX(1) from the Nintendo GameCube and Wii systems. Current features are modeled after OpenGL and the AMD r7xx series of graphics processors. Wii U's graphics processor is referred to as GPU7.
Sound and Audio

Dedicated 120MHz audio DSP.
Support for 6 channel discrete uncompressed audio (via HDMI).
2 channel audio for the Cafe DRC controller.
Monaural audio for the Cafe Remote controller.
In short, the audio coming from this machine will be vastly superior to its predecessor. Whether you can take advantage of this superior audio will depend on what kind of sound system you have though.
Networking

802.11 b/g/n Wifi.

Peripherals

2 x USB 2.0 host controllers x 2 ports each.
SDCard Slot.
So there will be two controller slots, likely for the two tablet controllers it supports with a estimated total of 6 possible controllers (two tablets, 4 wiimotes). The inclusion of the wireless N standard means it will be able to take advantage of the latest in wireless home networking hardware. 802.11 N is arguably the only wireless standard capable of a smooth gaming connection that compares to a normal wired connection. Unfortunately it hasn't been verified if the system actually includes a LAN port for a wired connection or not.
Built-in Storage

512MB SLC NAND for System.
8GB MLC NAND for Applications.

Host PC Bridge

Dedicated Cafe-to-host PC bridge hardware.
Allows File System emulation by host PC.
Provides interface for debugger and logging to host PC.
The usage of MCL NAND memory is questionable considering the drive is only 8Gbs. MCL NAND memory is a new form of ram being introduced in new SSDs. It typically uses more power and has a slower write speed than normal SLC NAND memory used in flash drives and other common forms of memory, but in exchange it has much higher capacity capabilities. It may still end up using less power than a normal hard drive though and the low capacity may not matter if the Wii U storage demands for each game are low (which Nintendo consoles tend to be.)
No disc drive is listed in the specs but the Wii U discs are apparently going to be a proprietary custom disc type (typical for Nintendo) and have a capacity of 25Gbs.
Here's what we can assume from this:
1. Whichever anonymous developer claimed that the Wii U was less capable than the PS3 and Xbox 360 clearly had not put very much time into learning how to get the most out of the console. If you were to build a game from the ground up for the Wii U specifically, you could put together an incredibly good looking game with these kind of specs. Perhaps not something that only a bleeding edge PC could run, but still very good looking even by modern standards. This machine is certainly capable of being called a next generation console.
2. With its architecture seeming fairly simple to develop for and plenty capable, we may see far more third party games come around with perhaps the sole exception of some particularly demanding games that may only run on the PS4 or 720 (assuming both consoles end up being more powerful and more pricy than the Wii U.) Third party developers were once the biggest strength of Nintendo consoles but the Wii slowly killed off their support. The Wii U could very well bring back a slew of games along with new IPs built for it and its new control method.
3.  If this machine can actually render 720-1080p games with 8k resolution textures, 4-8x anti-aliasing, 16x anisotropic filtering and DX11 features, then you need not worry about whether this console is capable of rendering great looking games. Those kind of specs easily beat the Xbox 360 and PS3, but now we have to wait and see if developers will actually make use of this power.