Yes, the same internet that allows you to play multiplayer games, browse forums or editorials or buy games online has probably influenced gaming in more ways than anything else, but not all of those ways have been good. Don't get me wrong; there are an insurmountable number of reasons why the internet has improved gaming immensely, but that doesn't give these issues a free pass. Piracy is the first problem that comes to mind for most people, but the effect of piracy on the industry is over-exaggerated at best. These are the six real problems the internet introduced to gaming.
1. The world wide whine
Before the internet had a real foothold in gaming, things mostly operated on paper. Cheat codes, reviews, previews, screenshots etc were all shared via magazines and guides. These were the days when the editorials rating really was the final verdict on the value of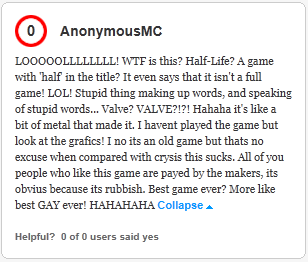 a game. Then one day the internet came along and every gamer decided they were just as qualified as the pros to evaluate games. Some might say freedom of speech in gaming is good, but from an editorial standpoint this was a disaster.
Subjective opinion exploded out of this digital revolution as fanboy sites, one-sided opinions, conflicting metascore ratings, brand and IP bias, and flame wars flooded the web. This became the new norm for the critiquing process of a game. Gaming culture was a much more peaceful place when people had to "pass the conch shell" so to speak, but now everything resembles the wall street floor before the closing bell. Despite the fact that this very website exists for the same reason, the universal megaphone known as the internet has turned gaming criticism into a clown car.
2. Online multiplayer for consoles killed split-screen
This used to be one of the best reasons to own a console in the first place. It provided what is probably the most social experience you can have while gaming even today. Now, instead of gaming together with friends in the same room on a couch, kids today will spend their childhoods being unnecessarily aggressive towards people they don't know on a couch. Coming from someone who bonded with many people over an N64, that is a sad thought. The PC already offered that experience just fine but the PC was never the platform of choice for social gamers anyway. Now even consoles don't fill that niche lest your friend brings his TV over and I don't care what people say about split-screen being outdated, pointless or impractical; it offered something special that hasn't seen a proper replacement and gaming is worse off without it.
3. Multiplayer saturation has damaged singleplayer games
The focus on including a multiplayer with games that are primarily singleplayer has lead to developers having to spend less time and effort on polishing up the campaigns of their games. The majority of games that release today are multiplayer and because of this we've seen the amount of singleplayer games with quality storylines plummet. For many games the multiplayer is tacked on to make them artificially last longer while the singleplayer campaign is incredibly short.
4. Digital distribution has allowed games to be released on a "patch it later" basis
Digital platforms like Steam have allowed updates for games to be streamlined. That may have sounded nice on paper because it meant no more downloading 500mb patches every time you install your copy of Battlefield, but what this has allowed publishers to do is release games that aren't finished and patch them later on.
Games themselves have become far more complex over the years and there more issues per game to patch these days, but that just means publishers should be allowing more time for them to be polished up and nearly bug free. Instead they are throwing out games that may as well be considered betas and it has become normal to expect game breaking bugs on release; even with major releases such as Skyrim, Dead Island or Diablo 3. Back when updating was a much more difficult process, developers wanted as little of them put out as possible. Therefore they had to make each one count. There was no room for weekly hotfixes and micro-patches. This usually resulted in them being bulky, but it also meant games were finished upon release the majority of the time.
5. The exploitation of DLC
This really was a great thing initially. It meant you didn't have to buy pricey expansion packs in order to receive new content. Unfortunately, nobody expected DLC micro-payments to nearly kill off the expansion pack entirely. They also didn't expect publishers to strip content from games as an excuse to release more DLC at relatively the same price as the expansions it killed off.
Adding new content to a game is great, but with this method games can be ripped apart to be nickel and dimed into the dirt. What we used to get for $60 or less, we now get for about $100 and when gamers ask for more core content with their initial purchase, they get labeled "entitled" as if they should be thankful just to be allowed to purchase the game. It's a clever scheme to raise the price of games beyond their already hefty $60 price range without appearing to do so upfront.
6. You may not even own your digital collection
What's that? I can only install my game a total of ten times? I can only download it for two years? What is this crap?
Unfortunately it's true that for some games and distributors you may only be "renting" or borrowing a license from them to play the game rather than actually own the game like you would with a boxed copy. This obviously introduces many downsides and it means your collection is forfeit for any reason they decide. What is the upside? You get to download all of your games in one convenient place; one place where they can all be conveniently taken from you by a hacker in the same time it takes for you to log in. No matter how much money you've poured into your collection there's always the looming danger of someday losing it to some ridiculous reason.