Okay, so not everyone has the patience to read an entire game review top to bottom. That's perfectly fine and honestly, most gamers who take the time to look up reviews for a game just want to know if it sucks or not. That's where the overall score comes into play. Ever since the dawn of gaming journalism itself, games have been receiving ratings and scores from editorials. For the most part, those scores are what gamers have always turned to when they were seeking a professional answer to the question "Is this game good?"
They may sound harmless at first glance, but these ratings have done tremendous damage to the industry on a long term basis. The problem with game ratings overall is that they boil down every critic's standards, every aspect of the game both technical and experiential, and every critique of the game down to a simple number. That isn't how it works.
Devaluing the actual review portion of a review
A good game review is obviously not designed to simply label a game "good" or "bad" but rather point out its flaws and strengths. It might also point out what kind of gamer would enjoy it despite any flaws it has.
Now imagine you put together a well-rounded review with the intention of recommending it to the people who would enjoy it while also indicating why some people might not. Then at the end you slap a big "75/100″ on the end.
Congratulations, you've just undermined everything your review was trying to accomplish.
Congratulations, you've just undermined everything your review was trying to accomplish. Why? Because that score measures the game on a purely objective scale and believe it or not most game critique is done on a subjective basis which varies from person to person. What should be treated as an evaluation of art is instead branded as merely a product.
Game critics aren't obligated to be 100% objective with their reviews anyway. When you try to persuade your friends to buy a certain game for example, you usually supply subjective reasons pertaining to your own interests rather than theirs. Reviews are essentially the same thing except with a broader spectrum of analysis on a more professional basis. There may be a few areas where objective standards can be applied but a final score measures the entire game up to an objective standard.
Furthermore, the objective scale that these scores represent doesn't even exist because the standards themselves are subjective and varied. Each editorial has a different idea for what each scoring tier means. To some, a 100/100 score means a perfect game with no flaws while to others it simply means it is the best of its kind. This is exaggerated by the fact that most game scores have equalized to the point where anything rated below a 7/10 is considered garbage. It's a broken and unreliable system that serves no useful purpose.
These scores also receive more attention than the details of the review itself simply because they're more convenient. No matter what appealing factors the author might have written about, he tarnishes the game's reputation by only giving it a 65%. It would be nice if there were an easy way to score all of the different elements of a game separately, but there isn't.
The dangers of aggregate scoring
Speaking of the effects of game ratings, sites like Metacritic which collect scores from various sites to throw up the average score as a 1-100 rating have been expanding their influence over the industry. Metacritic originally gained popularity among gamers when Valve added in the function to include Metascores with each game's store page.
So maybe seeing a "69/100″ next to a game might deter the occasional gamer from buying a game they would otherwise end up loving. It doesn't seem like too big an issue until these scores end up costing people their jobs.
In 2010 the developers of Fallout: New Vegas, Obsidian Entertainment signed a contract with Bethesda that did not entitle them to royalties for the game and stated if it did not receive a Metascore of 85 or higher then they would not receive their payment bonus. The game received an 84.
Now this is mostly Obsidian Entertainment's fault for signing such a horrible deal, but nevertheless they had to fire about 30 staffers later on due to lack of funding. Their undisclosed next-gen mystery game was also canceled as a result.
The fact that a generalized aggregate score could potentially decide the fate of a development studio's future is lunacy. The fact that the subjective views of critics are being consolidated and treated as an objective measurement of quality is even more ridiculous. A good portion of gamers likely don't even take Metascores seriously, but it's clear that many publishers do and that's even worse for the industry. It isn't Metacritic's fault as they never intended for this to happen, but it's happening regardless and Metacritic enables it.
As for Fallout: New Vegas, it's coincidentally one of the best examples for showing how arbitrary a Metascore is. Some people tell me it wasn't that great of a game, a few say it was trash, others say it was even better than the acclaimed Fallout 3. It's all relevant to what each person feels is more important in what makes a game "good". Read the user reviews on Metacritic for any game and you'll see how every one has people who like it, people who don't and people who are in-between. The only thing keeping user score from being more valuable than critic score is the fact that user scores can be spammed by mobs of angry gamers with a grudge.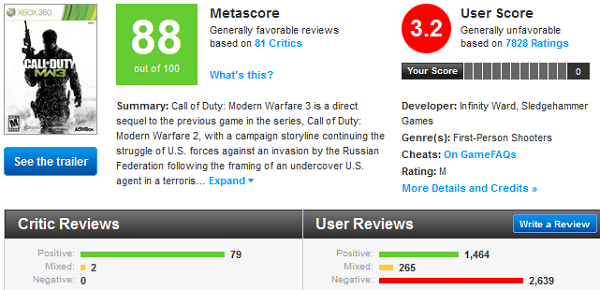 Plenty of my favorite games have received low scores (or what is considered low) on Metacritic. Game ratings themselves mean almost nothing today and should never be a primary reason for purchasing or not purchasing a game. Final verdicts might be convenient but if you inquire about the quality of a game then you should receive a legitimate answer, not a number.