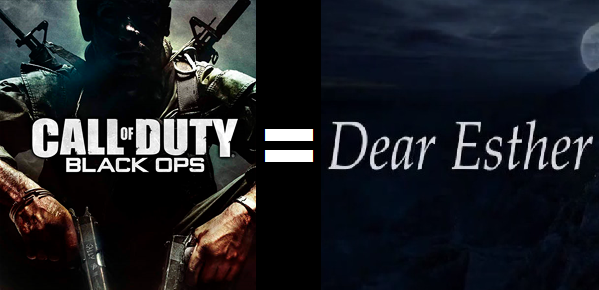 Let's talk about board games for a minute. Being the predecessor to video games, they were once the dominant form of gaming in a home environment. Board games like Monopoly were first and foremost interactive and fun to play with a group of people. Fast forward to modern gaming where everything has been made virtual and people gather together in front of their TVs for some interactive fun with a video game. Not much has changed over the years, right? Well, yes and no. Gaming has always been foremost an interactive experience, but now it has transitioned into a form of media and in some cases a form of art. That widened the spectrum of what can be considered a video game.
Now look at movies. The entertainment they provide is for the spectator. You simply sit and watch something happen on the screen in front of you. You know more about what is going on than the characters in the film, but you have no influence over what happens next. It's a linear spectacle.
Some would say you can't combine an interactive experience with a linear spectacle, but you can in video games and the results are almost never good. Plenty of modern games provide you with what can only be described as interactive spectacle or what I refer to as "moviefication".
It's become more like a movie than anything else at that point. One that you can move around freely in but not one you can change.
First off, I'm not referring to games with excessively long or frequent cutscenes. Looking at Metal Gear Solid 4 as an example (since the game was practically more cutscene than game), this actually wasn't a combination of the two but rather a regular trade off; having the game go back and forth between movie and gameplay. The same goes for other cutscene heavy games like Final Fantasy and Devil May Cry. This works for those games and the fans seem to be perfectly fine with it for the most part.
The problem isn't with cutscenes but with things like quick time events and interactive spectacle. If, for example, you can play through an entire level a game without firing a shot then it ceases to be a game. It's become more like a movie than anything else at that point. One that you can move around freely in but not one you can change.
Like a movie, you have no influence over what happens in this level of the game. It doesn't matter if you shoot or not, the events will play out the same way each time. The only thing you have control over is how fast you beat the level. This a perfect example of interactive spectacle. Call of Duty doesn't exactly try to pass itself off as a challenging series, but there is a difference between an easy game and one that simply requires you to walk from checkpoint to checkpoint to progress the scene. It seems to me that the only difference between the average military shooter campaign and Dear Esther is the presence of guns and the option of dying. I believe a game, even on the easiest difficulty, should require more of you than just the ability to walk and run competently.
There are some games that use this but have enough meta variety to escape being truly linear, such as the Mass Effect series. The series features plenty of linear level designs and cinematic spectacle, but you can still make choices that effect the outcome of the game in several ways. Although Mass Effect could be easily converted into a feature length movie, what it provides can still very easily be categorized as an interactive experience and therefore a video game, not an interactive movie. Half Life 2 and Skyrim are also heavily cinematic, yet there isn't a single moment in those games when your gameplay is halted, limited or interrupted by spectacle.
Quick time events are equally as bad, since they are essentially just interactive animations that force you to press buttons to advance to the next portion of the animation. It's really just an elaborate entry of a key code. There have been proper uses of quick time events like with Heavy Rain (the entire game is essentially one big quick time event) where there is more than one possibility for each action to lead into, effectively turning the game into a cinematic version of a "choose your own adventure" book. In just about every other game, failing to hit a button in time means death so you must restart the combination from the beginning. There is only one path for the event to segue into so they're usually just flashy pointlessness and they often take the place of something you could do on your own if the developers had just put enough time into adding the mechanics.
Luckily this kind of thing doesn't infect most games nor is it a widespread problem… yet. The amount of games featuring interactive spectacle has grown rapidly over the years, but perhaps this kind of thing will stay contained within mainstream gaming. After all, if you don't like crappy pop music, you can simply not listen to it. The same applies here, but it's still sad how many studios have been reduced to making games that play like movies with no depth or suspense to them simply because it's cheaper and quicker to produce.