When the original Borderlands launched in 2009 it gave people so many reasons to love it, but also a lot of reasons to uninstall it forever. If you managed to get through the awkward, slow, boring beginning to get to the bulk of the game (as well as the four DLC expansions) you were probably ready for a sequel before you even finished all of it. Now that sequel is out, but does it live up to its predecessor? Here's my overly lengthy answer to that question. For all of you without any patience, the short answer is yes.
Characters and story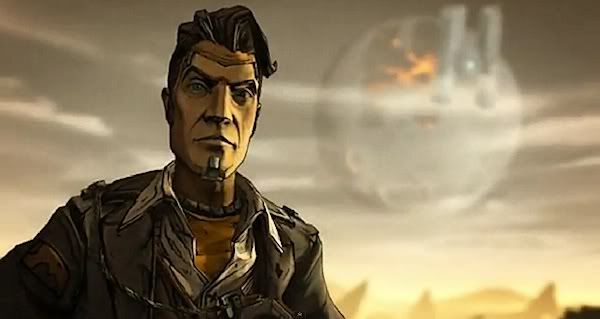 Borderlands 2 takes place five years after the events of the original. Pandora has been taken over by a Hyperion dictator known as Handsome Jack. Your job is to kill him. Sounds simple right? Yes, it's really that simple.
Although you don't actually see Handsome Jack being an evil bastard (until the end that is), the game definitely tries its best to drive it into your head that he is a force to be reckoned with as well as a huge dickwad. He's plastered throughout the game dialogue and the marketing as the cocky dictator you will inevitably fight who frequently makes you want to cave his face in with your boot. This was a nice addition until the 20th time he hijacked my radio with childish blabber and insults about how screwed I was. Sure, the dialogue is funny throughout the game but the novelty of it wore off pretty quickly.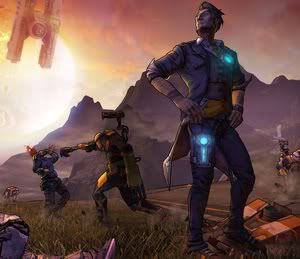 In other games that build up your anticipation of the final battle with the main villain, you usually interact with your nemesis and witness their actions first hand. (Sephiroth from Final Fantasy VII is a good example.) Your interaction with Handsome Jack is mostly one-sided and stopping some intergalactic douche who showed up to take over a garbage dump of a planet isn't exactly as compelling as, say… stopping someone you have real interaction with for a good portion of the game (especially if they start out as an anti-hero.)
It's not like Gearbox failed at setting up a great "find bad guy, kill bad guy" storyline, but that theme only goes so far. It might offer a lot of fan service and exposition for the series, but overall you're not going to leave the game feeling like you experienced something unique or mind-bending. This is unfortunate because a game isn't exempt from having a great and in-depth storyline just because it's an arcade shooter, but Gearbox seems to have opted for a simpler one right out of the gate.
The four protagonists from BL1 may have had the personalities of tractors, but they were still likeable, well-designed and fun to play as with their mockery, insults or just plain non-stop adrenaline fueled yelling. These four make their own cameos in BL2 but as non-playable characters. The four you do get to play as are interesting in their own respect, but fail to capture the same kind of style and wit as the original four. They feel more like generic "vault hunters" than actual primary characters. Perhaps that's what Gearbox was going for, but I was actually looking forward to enjoying the characters I played just as much as I did in the original.
Personality aside, the characters and NPCs in BL2 still have plenty of flair to them and the customizable skins you can find add to that.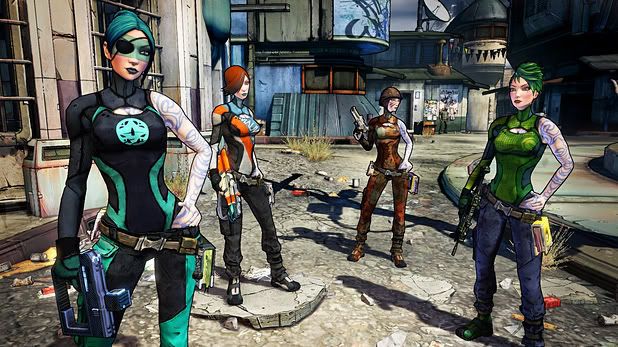 Finally, the main reason this game shines above the average shooter is the character dialogue. That might seem like a dumb reason to anyone unfamiliar with the series, but Borderlands is a rare case in which you actually want to listen to every bit of radio chatter because of how hilarious it. The humor varies between intellectual and completely immature toilet humor or senseless violence. Either way, it's one of the best parts of the game and the series is one of the few to actually make me burst out laughing. It almost never takes itself seriously and is littered with humor, pop culture references and blatant attempts by Gearbox to troll the players as best they can.
Gameplay
Essentially there are two ways you can choose to play this game. You can either stop after every battle to spend five minutes searching for all of loot in the area (and boy is there a lot of it) or you can rush through each area guns blazing without stopping very often to ensure the game plays at a pace that continues to entertain you. Unfortunately these two don't blend very well.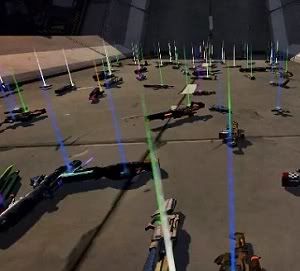 Some people enjoy the looting aspect of the game, but because it slows down the game so heavily this might not appeal to players who just like the action. When you compare
this gameplay to that of the best loot game of all time, Diablo 2, you'll notice that it isn't actually the looting that seems misplaced and awkwardly crammed onto the game, but the run & gun action. If the game allowed you to properly loot while simultaneously blowing up baddies, perhaps the game wouldn't have such a stop and start feel to it.
Still, the movement, interface and interaction this time around is much more fluid and streamlined. Gearbox has clearly learned many lessons since their last game. BL2 at its best moments is a very entertaining piece of work. Yes, there is a giant H-shaped gun in the sky at all times and yes there are several moments in the game when in it is hailing giant plasma artillery rounds down upon you. That's just a tad bit more epic than the events of BL1 to say the least.
So is it just a shoot-happy gun fest the whole game? For the most part, yes, but there are still elements of strategy involved. Luring loot goons into enemies for him to destroy will yield better drops. Enemies can come from underground, out of buildings or from the air and different weapons are better at dispatching different enemies. Using teamwork and combining abilities provides better killing efficiency. The winding, complex environments make for excellent cover and sniping opportunities and there are far less invisible walls this time around, meaning the majority of the map can be put to use for whatever you see fit. The game rarely forces you to play a certain way, whether it be fighting enemies head on or picking them off from a distance. Ultimately it rewards you for using a mixture of both.
Gunplay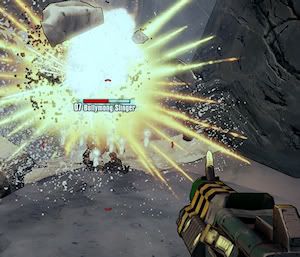 Guns are clearly the main attraction of the game since there are supposedly 87 gajillion of them. In BL1 they were essentially just different flavors of the same shooty bullet soup. The only real distinction between each one was what kind of shiny pew-pews it shot and what stats it had. BL2 does a marvelous job at widening the variety of guns you can accumulate. It's a shame though that Gearbox failed to supply some basic features players asked for like gun customization. Considering you can collect skins for your vehicles and character, it would make sense to add skins for weapons as well.
In addition to all the abilities focused around giving you free ammo, Pandora looks like an ammo volcano went off somewhere.
Another issue is with the ungodly amount of ammunition you come across in this game. In addition to all the abilities focused around giving you free ammo, Pandora looks like an ammo volcano went off somewhere. The only way to run out is by purposefully not pick it up for convenience sake. If you ever do run out, you can also purchase it with your stupid amounts of money from any of the ammo dump vending machines littered at most checkpoints. This removes a crucial element of difficulty to the game since you never really think about making your shots count or conserving your ammo. This might be a shoot-everything-in-sight game but that doesn't mean you shouldn't find yourself in a situation you can only escape with your fists once in a while.
Imagine a version of Quake where there is ammo every couple of steps. There's no more incentive to worry about whether you'll have enough juice for that explosion-spitter 5000 of yours. While some might call that an extra element of tension to get your blood pumping, Gearbox apparently calls it needless hassle.
Comparing the stats of weapons is marginally less painful than in the original, but that isn't saying much. Ultimately it segregates the action and fun from the looting and RPG elements even further. It never really matters in the heat of battle whether your gun has an extra two points of extra damage because you're probably going to plug the same amount of bullets into baddies anyway, nor will you actually be paying attention to how efficient your stats are. Although they improved the RPG system with the "badass rank" system and far more variety in stat buffs, it still has that bolted-on feel to it just like BL1.
Vehicles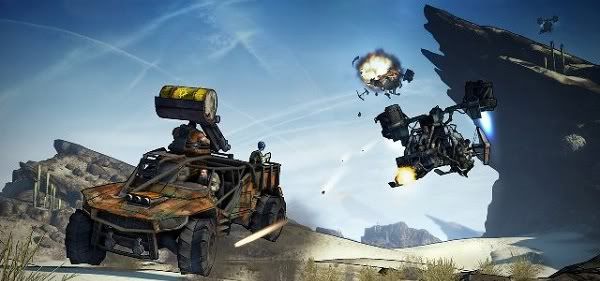 The only vehicle available in BL1 was at best a rolling pile of crash-happy garbage with an underwhelming set of weapons that did less damage than simply running stuff over. It also controlled like a supercharged Halo warthog on ice skates. It wasn't until the General Knoxx DLC that you got more vehicles to choose from as well as a more vehicle friendly environment.
If this game had a last name, violence would be its middle one.
The crashy-garbage-mobile makes a return as the basic vehicle in BL2 but with improved handling, the ability to drift and significantly improved physics. They also changed the road kills so that running over bullymongs will actually hurl their crippled broken flaming bullet-filled corpses across the map instead of just exploding them into gibs. If this game had a last name, violence would be its middle one.
There are different vehicles available later on but unlike BL1 this game frankly doesn't need more than a handful of them to choose from. Since traveling segments are short, using a vehicle is more of an optional joyride with guns involved than an actual strategic tool.
Visuals and audio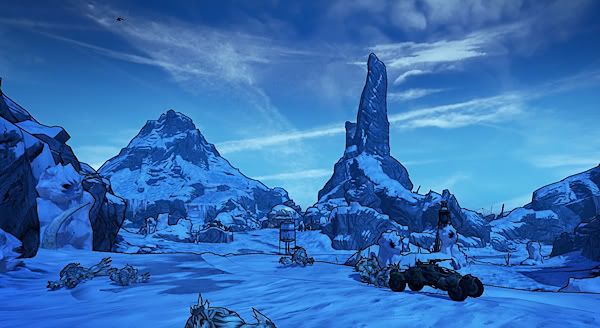 I'll be honest, in my first playthrough of Borderlands I didn't like the outlined art style and even altered some lines of code to turn it off which made the game seem more "normal" looking. I'm more content with it in BL2 because the art style seems a bit more refined and artistic than before. Nothing seems out of place or unfitting to the environment. The variety of scenery you can navigate through has also been drastically increased, launching you into a snow covered tundra at the start of the game rather than a desert resembling hell's garbage disposal like we've become accustomed to with Pandora. Not that you don't ever navigate through the desert, but Pandora has a much less slummy feel to it this time around. The scenery can be visually stunning in some places and bland in others, usually depending on what type of area you're in.
BL2 does exactly what a sequel should do; improve the flaws of the last game while maintaining all the core elements that everyone loved. Despite its flaws, this game still provides heaps of entertaining fun and satisfying violence (which is what is most important for a shooter) so it can definitely be considered the best co-op shooter of 2012 so far.
Summary
Pros
Cons
Hilarious characters and dialogue


Awesome soundtrack


Good loading times


Great weapon variety

Challenging gameplay and good enemy AI

Awesome aesthetic

No weapon customization


Bolted-on RPG elements


Unoriginal storyline


Almost no replay value


Bad inventory and skill menu design